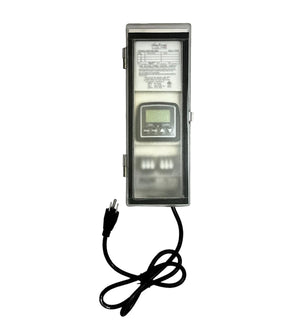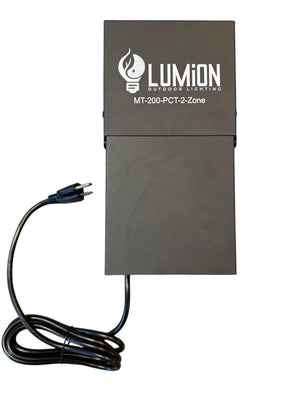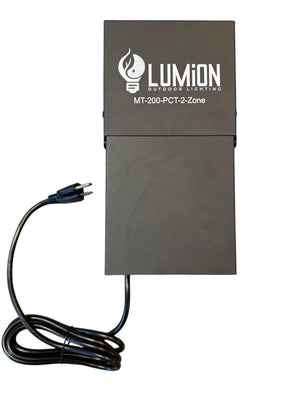 SST-150-AST Astronomical Low Voltage Landscape Lighting Transformer
Backordered until the week of 10/17

PDF Directions for Digital Astro Timer:
This rugged 150 Watt transformer has top of the line internal and external components and is ideal for small projects.  The polished stainless steel cabinet with removable hinged door will resist rust and is weathertight to protect the internal components from moisture and debris.  The transformer features 3 voltage taps in 15 volts to give you choices for fixtures that are both close and far; or for wire runs that have heavy loads.  It is energy efficient, quiet and will last a lifetime.  In addition the mounting bracket, removable hinged door and removable lower plate with easy to add 3/4" conduit male adapters make installation an easy process.
FEATURES:
150 watt capacity with 3 voltage taps (15V) to allow the installer to compensate for voltage loss.
Toroidal core for more reliable, efficient, cooler and quieter operation than EI laminated transformers.

LCD Display with 

5 modes - ON, OFF, Timer, Auto (dusk-to-dawn),Sunwise/Astronmic timer (local sunset and sunrise)                                          
Spacious wire compartment with angled multi-tap with tool less quick connect terminals make installation a breeze.
Input 120VAC 60HzShort circuit and overloaded protection
Stainless steel enclosure with lockable hinged lid.
Easy to read controls & Installation manual.
Only draws as much electricity as needed to illuminate the bulbs you have -- e.g. a 150w transformer will only draw 40w of power if you only have 40 watts of bulbs hooked to it. The 150w refers to the maximum capacity. (General guideline: Do not load a transformer to greater than 80% of its capacity.)
ETL Listed
Lifetime warranty on core and enclosure.